Everything About Closure Wig
A closure wig is a kind of wig that is sewed by a lace closure and hair bundles. Usually, according to the size of the lace, the closure wig is divided into 4x4 lace closure wig, 5x5 lace closure wig, and 6x6 lace closure wig. These closure wigs have various hair lengths and hair textures available for both African American wigs.
4x4 lace closure wig:
4x4 closure wig has a 4inch by 4inch lace closure at the front of the wig. The length from left to right is 4 inches for the lace closure, from forehead to back is also 4 inches. That allows you to make 4 inches horizontal natural hairline and 4 inches vertical parting space.
5x5 lace closure wig:
5x5 closure wig has a 5inch by 5inch lace closure at the front of the wig. The wig is sewed in the 5x5 lace closure with bundles.
6x6 lace closure wig:
6x6 closure wig has a 6inch by 6inch lace closure at the front of the wig. The wig is sewed in a 6x6 lace closure with bundles.
The 6x6 closure wig is becoming more and more popular now because its lace area is big. It has 6 inches horizontal hairline and 6 inches of vertical parting space, which will give you a perfectly natural hairline and deep part, no matter you want a free part, side part, or middle part.
The below picture shows the difference between the 4x4 closure wig, 5x5 closure wig, and 6x6 closure wig.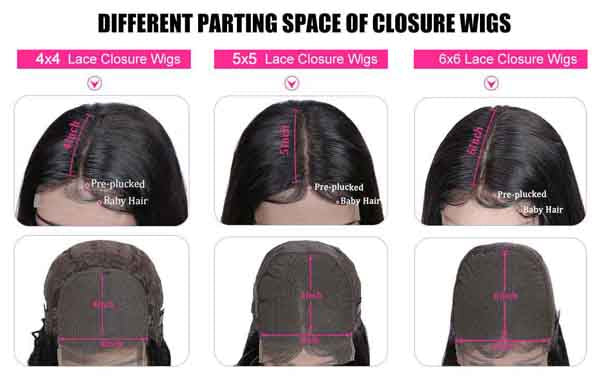 Closure wig offers an undetectable hairline at the closure part. The lace closure brings along not only flexibility and movability but also breathability. The lace blends well on your scalp by using glue or tape adhesive. Give you a perfectly natural hairline looking and comfortable experience.
Closure wig has different hairstyles and lengths. For hairstyles, there are straight hair closure wig, body wave closure wig, water wave closure wig, deep wave closure wig, curly closure wig, and so on for sale on the market. For length, usually from 8 inches to 26 inches are available. Some suppliers sell 28-38 inches long closure wigs. Ashimary hair provides high-quality long closure wigs.
Closure wig is friendly for beginners. Closure wig is very easy to install no matter with glue or not. Everyone can wear it easily within 2 minutes, even though you are a beginner for wigs. If you want to invest in your first wig, the glueless closure wig is highly recommended.
Closure Wig is cheap. Compared to a frontal wig and full lace wig, closure wig is made by a smaller handmade lace area as the front portion. The smaller the handmade area, the cheaper it is, so the closure Wig is cheaper than the frontal wig and full lace wig. It can save money for you!
Clean and dry your hairline. Dampen a soft rag or cotton swab and run it gently along your hairline to strip away dirt and oils. The hairline is your lace closure place, and the place should be secured.
Gently apply the glue along your hairline. Brush the glue to apply it below the hairline, where the front of the closure will be.
Attach your wig slowly and carefully.
Be sure that your wig is on straight.
Dry the glue for 30-45 seconds with a blow dryer with cool air.
Gently press the hair down onto the glue. Let it sit for 10-15 minutes before you style it in order to make sure that the adhesive is completely dry.
Are you looking for a reliable store to shop high-quality lace closure wigs at a cheap price?
If so, Ashimary Hair will be your best choice. We have professional experience in manufacturing wigs, provide top grade 100% human hair wigs only to worldwide customers at affordable prices. Try high-quality lace closure wig at ashimaryhair.com, softness and silky, natural and healthy. Here are some highly recommended closure wigs.
1. Closure wig with highlights
2. Closure Wig Bob
3. Curly Closure Wig
4. 5x5 Closure Wig Body Wave
5. 6x6 Closure Wig Straight Hair
If you want to view more closure wigs for cheap, click this link: https://www.ashimaryhair.com/collections/closure-wig
---