Highlight Wig: Something You Need To Know
What is a highlight wig?
highlights is a partial coloring hair technique, multiple light-colored hair strands adorn on the dark base, to create typically light and shade alternating overall appearance, is one of the most popular hair colors from 2020 summer, which make your hair look more attractive and special stylish. If you are tired of just have one color, highlight hair will be a great choice. Believe me, you won`t be disappointed. 
Highlighted wigs have a lot of different hairstyles. Brown hair with blonde highlights, black hair with brown highlights, highlight lace front wigs, highlight bob wigs, highlight curly wigs, black wig with red/pink/green highlights, and more. You can see more and more human hair wigs with highlights on the market. 
How to highlight a wig at home?
If you're determined to DIY your highlights, you've got plenty of options as far as at-home highlighting kits go. No more squeezing lemon juice onto your hair like you did when you were a kid—remember those days? Let`s see the video to learn to highlight a wig at home.
As highlight hair has already bleached the color. It needs us more time to care for the wig. Once you highlighted your hair, you need to do deep condition regularly. As the highlighted hair will be easier to get dry.
Some certain highlighting techniques—like balayage—require a special level of skill to achieve, so for those, you'll be better off having it done at the salon. If you have a very dark brown base and want a blonde highlight wig, that should also be left to a pro colorist. 
4 best highlight wigs online
If you don`t wanna a colorist to highlight your hair, just buy a highlight wig. Ashimary hair provides high-quality highlight wigs at affordable prices online. These are some popular human hair wigs with highlights below. Choose a fave one to take home.
1. Straight highlight wig
Highlight straight lace front wig is one of the most popular wigs among highlight wigs. Which is made of 100% virgin human hair. The forehead of the wig is pre-plucked, so it is easy to trim the hair as natural as your own hair.
The lace size of the wig cap is different. There are 4x4 inch, 13x4 inch, and 13x6 inch. 13x6 inch lace is suitable for a 6 inches deep hairline which is more natural. 
From 12 inches to 30 inches, all are available for the wig lengths. Satisfy your yearning for long straight hair like a waterfall. The wig comes in 2 highlight colors: brown hair with blonde highlights, black hair with brown highlights. It also has two different densities for you. 180% density and 250% density. Normally 180% density can make a whole full head. if you prefer a fuller and thicker look, you can choose 250% density. This brown highlight straight wig never lets you down.
2. Highlight wig bob
If you are a short inch lace wig lover, you must have a bob wig. It is never out of the fade. If you are tired of the natural colored bob, definitely go and try this blonde highlight wig bob. The blonde highlight bob wig will bring you another new look. Highlight wig bob which has 8 inches -14 inches with 180% density. The simple look and effortless install.
3. Highlight wig deep wave
Every girl dreamed to wear amazing colored hair and want to be attractive among your friends. This curly highlight brown wig can meet your needs. Highlight curly wig which made by Brazilian virgin hair, it can be straightening and curled it easily. Especially for summer, if you wear a highlight curly wig on the beach with the bikini, with sea breezes your hair, that will definitely a charming look.
4. Blonde/pink/red/green highlight wigs
Straight hair wigs with blonde/pink/red/green highlights
Highlights are sometimes misconceived as only for blonde highlight wig, but any hair that's being colored in sections lighter than its base color is a highlight. This Wig has 5 color highlights to choose from: blonde highlight wig, pink highlight wig, red highlight wig, green highlight wig, and mixed colors rainbow highlight wig. They will give you an amazing look.
If you love the colored wig, this brown curly wig can`t be missed. It is really really charming hair. The brown hair wig is made from grade 10A Brazilian virgin hair. The hair can be dyed, curled, and straightened easily. It is highly praised.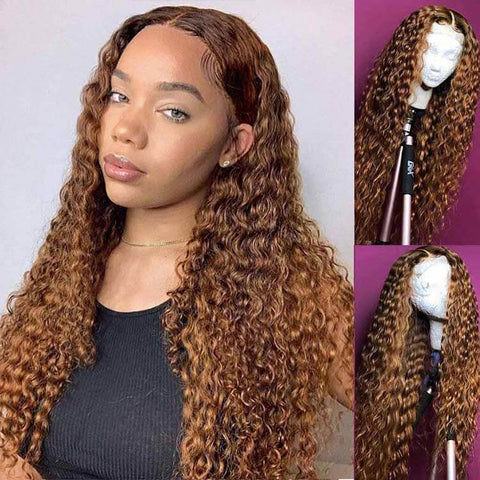 All the wigs above come from Ashimary Hair. Ashimary hair is a professional manufacturer of human hair weaves and wigs in China. They are dedicated to the needs of black women. Specialize in the highest quality human hair wigs and weaves that are designed to match well with your natural hair types. They offer the best wigs, lace front wigs, full lace wigs, highlight wigs, HD lace wigs, glueless wigs, headband wigs, colorful wigs, super long wigs, curly hair wigs, and so on. 
---